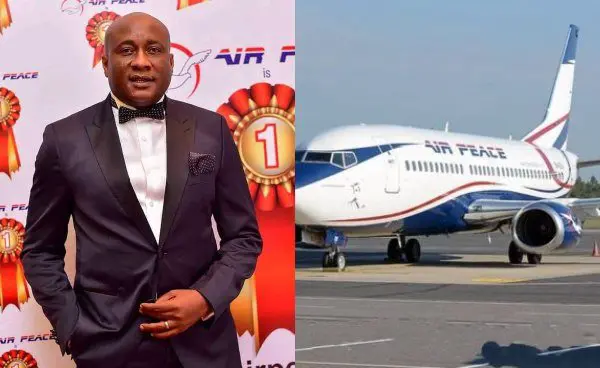 The management of Air Peace Airline has opened up on a statement credited to its chairman, Allen Onyema that Airline Operators of Nigeria (AON) has concluded plans to hike ticket prices to N120,000.
The company said Onyema was only quoted out of context in his statement at a parliamentary briefing on Monday.
The statement below;
It has become imperative to correct the misinformation being peddled by some online publications regarding the statements made by the Chairman of Air Peace, Allen Onyema, at the Airline Operators of Nigeria (AON) parliamentary briefing on Monday.
Onyema was reported to have said 'airlines will increase ticket fare to 120,000 naira'.
This statement was clearly taken out of context by the media. These were his exact words: "From what is happening, if we continue this way (the increasing fuel price), the least ticket you'll expect from airlines will be 120,000 naira for Economy and we don't want to do that because it will not help the ordinary man".
The Air Peace Chairman has the interest of the flying public at heart and will not make statements or take actions that suggest the contrary. Also, he made those statements under the auspices of the AON and not Air Peace.
Hence, the media should stop giving the public the impression that this is an Air Peace initiative. It is a collective effort by the Nigerian airlines.
It is unprofessional journalism to mislead the public with sensationalistic headlines, especially when critical national issues are on the front burner.
Members of the general public are urged to disregard such publications as they do not fully and truly reflect the statements made by Onyema at the legislative briefing.