BIAFRA: DSS block Nnamdi Kanu's lawyers entry into court
by Jungle JournalistFebruary 16, 2022 Reading Time: 2 mins read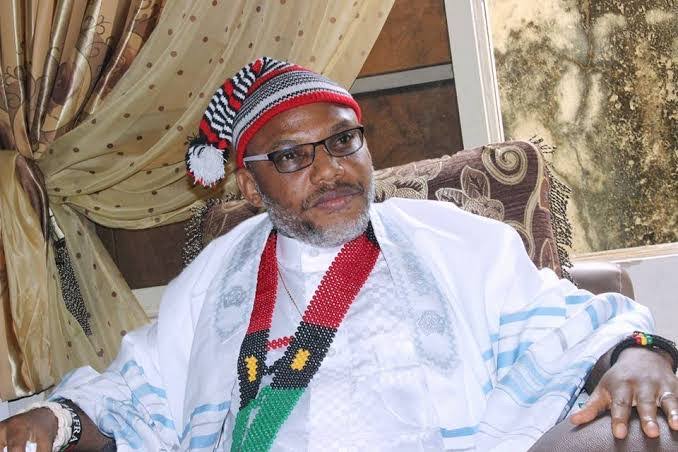 News reaching Jungle-Journalist.Com has it that men of the Department of State Services (DSS) has blocked some lawyers in the legal team of Nnamdi Kanu, access into the court.
Barrister Aloy Ejimakor and Mike Ozekhome were however allowed into the court.
According to a reliable source, Kanu's lawyers are at the front of the gate of the Federal High Court, Abuja.ADVERTISEMENT
The Federal Government slammed a 15-count terrorism charge on Nnamdi Kanu which he pleaded not guilty too.
ReadAlso
He also asked the Federal High Court, Abuja, to discharge and acquit him without standing trial. According to him the charges were not worth being defended.
Last Tuesday, Kanu filed a preliminary objection challenging the competence of the new charge as well as the jurisdiction of the court to hear the matter.ADVERTISEMENT
According to the defendant, the fresh charge preferred against him were baseless, worthless, defective and could not stand the test of the law hence, should be dismissed.
Kanu is believed to be present in court already.ADVERTISEMENT
Related
November 10, 2021
October 21, 2021
January 19, 2022
In "Biafra"Tags:Department of State Services (DSS)Nnamdi KanuTrialPrevious PostTwitter Ban: ECOWAS court dismisses FG's application against suit by One Love Foundation, SERAP, othersNext PostEnugu LG Polls: Bennett Aja, a mere puppet, has no capacity to win in Aninri
– APGA candidate, Jude Ogbonna
You MayAlso Like
FEBRUARY 16, 2022COMMUNITY REPORTS
FEBRUARY 16, 2022Next Post
Discussion about this post
https://web.facebook.com/v2.8/plugins/comments.php?app_id=&channel=https%3A%2F%2Fstaticxx.facebook.com%2Fx%2Fconnect%2Fxd_arbiter%2F%3Fversion%3D46%23cb%3Df32321b952da45c%26domain%3Dwww.jungle-journalist.com%26is_canvas%3Dfalse%26origin%3Dhttps%253A%252F%252Fwww.jungle-journalist.com%252Ff118fdd8186bd18%26relation%3Dparent.parent&container_width=354&height=100&href=https%3A%2F%2Fwww.jungle-journalist.com%2Fbiafra-dss-block-nnamdi-kanus-lawyers-entry-into-court%2F&locale=en_US&mobile=true&sdk=joey&version=v2.8&width=ADVERTISEMENT
Recent Posts
Recent Comments
Trending
ADVERTISEMENT
Popular Stories
ABOUT US
Jungle Journalist Media Limited
Jungle Journalist is an online news and information resource centre dedicated to accurate and timely news reports.
CONNECT WITH US
SECTIONS
NEWS SOURCES
PunchNigerian TribuneThe NationThisdayDailyTrustThe SunDaily IndependentPM NewsVanguardPremium TimesSahara ReportersThe GuardianLeadershipDaily Times Of Nigeria
© 2021 Jungle Journalist Media Limited – Web Designed by AfeesHost.
© 2021 Jungle Journalist Media Limited – Web Designed by AfeesHost.
Read more at Jungle Journalist https://www.jungle-journalist.com/biafra-dss-block-nnamdi-kanus-lawyers-entry-into-court/